The Small Business Technology Council held its annual Membership meeting in Washington, DC on June 7th, and this year the Senate Small Business Committee was gracious enough to allow us to use their Hearing Room for our meeting.
Discussions with Hill staffers and SBA
Kevin Wheeler, John Steitz, and Harry Anastopulos from the Senate Small Business Committee, and Joe Hartz and Eminence Griffin from the House Small Business Committee participated in our Congressional panel and discussed the latest updates on SBIR/STTR reauthorization with our members.  They explained the challenges of crafting language that is acceptable to all stakeholders and committees and getting it inserted into the NDAA in a reasonable timeframe.  They also asked us to try to get our Senators to sign on as cosponsors for the Senate SBIR/STTR reauthorization bill, S. 2812.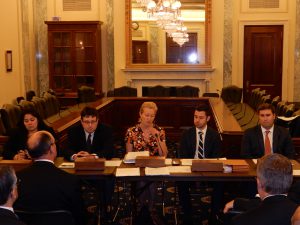 L to R: Eminence Griffin, Joe Hartz, Kevin Wheeler, Harry Anastopolus, John Steitz
We later discussed the policy directive amendments proposed by the Small Business Administration with John Williams and Ron Cooper from SBA's Office of Innovation.  We had a lively debate over some of the provisions, particularly regarding the setting of data rights limitations at 12 years.  The proposed directive amendments are open for public comment until July 6, and the SBTC is currently drafting a comment to submit.  We encourage everyone who is interested to read the policy directives and submit their own comments, as well:
SBIR Policy Directives Amendment
SBTC Awards Presentation
During this meeting we also had a short presentation for our "Champion of Small Business Technology Commercialization" Award winners.  These awards are given to highlight the best PEOs, PMs, and COs in the SBIR program, as nominated by SBIR companies.  We specifically want to recognize those in government who have gone above and beyond in helping small business receive Phase III and follow-on funding to help commercialize their technologies.  We received dozens of nominations, and decided to give awards to the best 16.  Five of the winners were on hand to receive their award in person at our meeting.
SBTC Champion of Small Business Technology Commercialization Winners & Agenda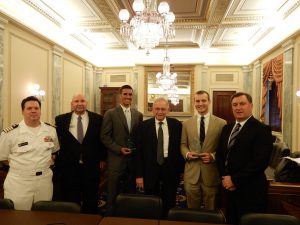 Richard Jandrain & John Clarke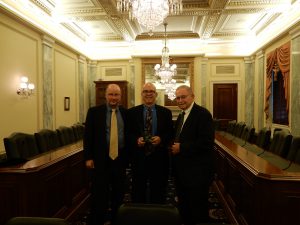 Daniel McCarthy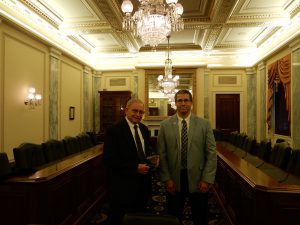 Christopher Mertens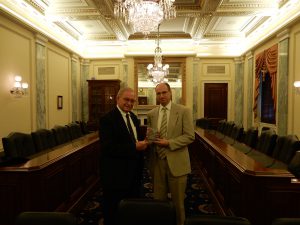 Chris Rozicer
We also took this opportunity to recognize and honor some of the key players and staffers in the ongoing SBIR/STTR reauthorization fight by recognizing them as "Champions of Small Business Innovation".  These are Congressional staffers, Agency representatives, and small business and university workers who have demonstrated their commitment to helping and advocating for small business during this SBIR reauthorization effort.  Of course, these winners just represent a handful of the critical actors working behind the scenes to try and get a reauthorization done soon, so that SBIR companies aren't left guessing when and if SBIR/STTR will be continued.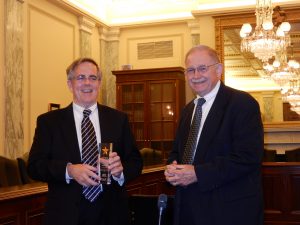 Bob Smith
Director, US Navy SBIR/STTR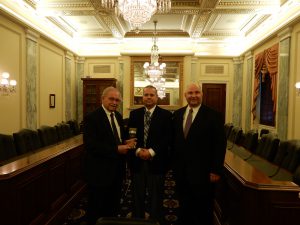 David Sikora
US Air Force Technology Transfer Program Manager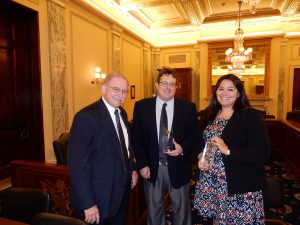 Joe Hartz & Eminence Griffin
US House Small Business Committee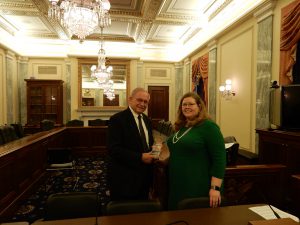 Emily Murphy
House Armed Services Committee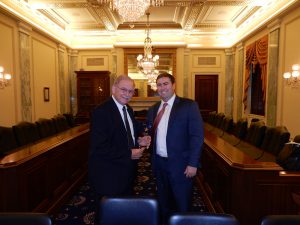 John Steitz
US Senate Small Business Committee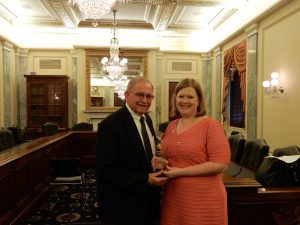 Meredith West
Senate Small Business Committee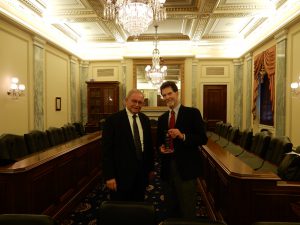 Will Swearingen
Techlink
Finally, we wanted to thank Senator David Vitter for all his work on behalf of small business over the years, and most recently as Chairman of the Senate Small Business Technology Council.  Senator Vitter is retiring this term, and he will certainly be missed by the small business technology community.  We honored his years of service for small business with our Milton Stewart Small Business Advocacy Award.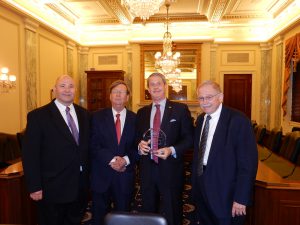 Chairman David Vitter
Senate Small Business Committee