On November 14, The Small Business Technology Council hosted an in-person meeting for SBTC members on at our office building in Washington DC.  In attendance were Hill staffers, government officials, and policymakers to speak to our members about current issues facing high-tech small businesses, particularly the recent SBIR reauthorization effort.   In addition, we presented SBTC's Guidebook the changes to the law made by the SBIR/STTR Extension Act of 2022, and what small businesses need to know moving forward to be in compliance with the new law.
SBTC also used the opportunity to honor some of those in government whose hard work and dedication were critical to getting SBIR reauthorization passed in Congress before SBIR authority expired.  A lapse in the program would have been catastrophic for high-tech small businesses in America, and would have resulted in agencies beginning to wind down their SBIR offices.   This was arguably the most difficult reauthorization in SBIR's 40 year history, and it simply would not have gotten done were it not for the diligence and advocacy of those in government who understood how important the program is.
Rep. Nydia Velazquez (D-NY), was amongst those who showed up to accept her award, and afterward offered remarks and answered a few questions from members.
NSBA President Todd McCracken and SBTC Executive Director Jere Glover Present House Small Business Committee Chair Nydia Velazquez (D-NY) with a 2022 Milton Stewart Award.
To see a full list of award winners, click on the link below:
SBTC 2022 SBIR Reauthorization Award Winners
SBTC 2022 Membership Meeting Agenda
2:00pm – Intros, Discussion of SBIR changes and guidebook
3:00pm – Panel #1: Administration Officials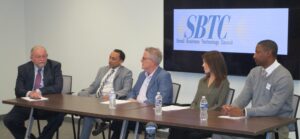 Farooq Mitha – Director, DOD Office of Small Business Programs
Bob Smith – Director, Navy SBIR/STTR Programs
Bailey Devries – Associate Administrator, SBA Office of Innovation
Erick Page-Littleford – SBA SBIR/STTR Program Manager
4:00pm – Panel #2: Hill Staffers

Kevin Wheeler, House Small Business Committee Majority
Delia Barr, House Small Business Committee Majority
Giulia Leganski, House Small Business Committee Minority