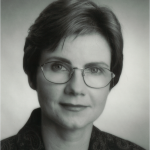 We are sad to announce that SBTC's Co-Chair Heidi Jacobus died last week at the age of 63.
In addition to her responsibilities as Chairman and CEO of Cybernet Systems Corporation, Heidi volunteered countless hours towards promoting and defending the interests of other SBIR companies.  As board member and later Co-Chair of SBTC, she was well known for her passion and energy, and loved by our members.  Heidi played a key role in many, if not most, of SBTC's advocacy efforts, and constistently showed a willingness to lead on the issues that are so important to thousands of innovative high-tech small businesses.  In addition, she was a mentor to many younger entrepreneurs and small businesses.
The Small Business Technology Council and the SBIR community has lost a dear friend and mentor in Heidi Jacobus, and the SBTC was priveledged to count her as a member and a leader.  She is survived by her husband, Dr. Charles (Chuck) Jacobus; their daughter Monica Anne Jacobus with husband Jonthan Gross; their son, Patrick Morgan Jacobus with his wife, Sianna Jacobus; her mother, Emma Neubauer; and brother, Phillip Neubauer and his family Annukka, Bettina, and Alex
A short reception for Heidi will be held on February 13, 2016 at 2pm, at the Nie Family Funeral Home, 3767 W. Liberty Road, Ann Arbor, MI 48104. In lieu of flowers, one of Heidi's last wishes was to establish a middle school scholarship fund for the children of the Cosmos Club employees, many of whom are first generation US citizens. Heidi loved the club and attributed its goodness in many ways to its staff. She credited her own success to the opportunities that arose from her scholarship to Mooreland Hill School and wanted to create a similar chance for deserving children. If you woud like to contribute to her last vision, please send a check to:
Cosmos Middle School Scholarships Fund
Care Of: Charles Jacobus
432 Riverview Dr
Ann Arbor, MI 48104.