After six months in limbo, the long-awaited economic impact study of the DOD SBIR/STTR programs has finally been made publicly available this month.  This study, conducted by Techlink at Montana State University-Bozeman, analyzes the benefits and impacts to the economy from DOD SBIR/STTR Phase II contracts that began 1995-2012.  The researchers managed to achieve a 96% response rate, getting comprehensive data on 16,526 of the 16,959 Phase II contracts awarded during that time period.  Like the Air Force's and Navy's Economic Impact Studies, the study seeks to determine what economic outputs resulted from the $14.4 billion invested SBIR/STTR Phase II contracts to small businesses?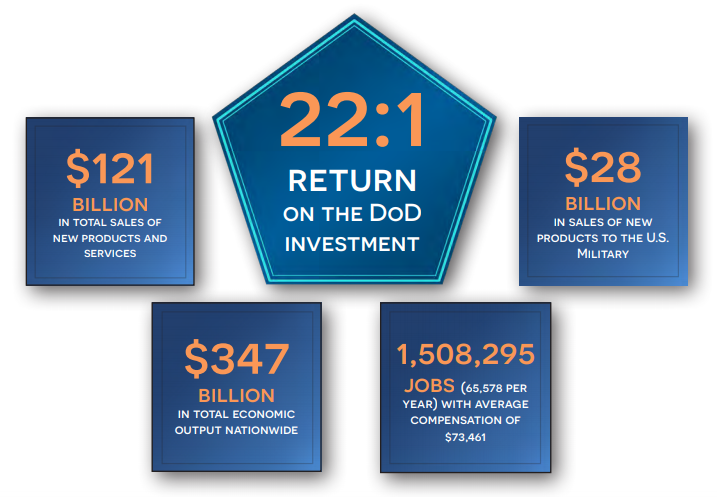 As the infographic from the study shows, the return on investment has been phenomenal.  Total economic output resulted in 22:1 ROI on DOD investment.  Just looking at sales alone, the study recorded $121 billion, for an 8.4:1 return on investment.  Over a million and and a half new high-paying jobs were created.  The total federal,state, and local tax revenue generated by SBIR/STTR program was estimated to be $39.4 billion, meaning the SBIR/STTR program paid for itself 2.7X over.  In addition, the study noted $9.5 billion in total outside investment, and 496 companies that were acquired by larger firms, resulting in $35.6 billion total acquisition value of those firms.  The study also pointed out that these figures likely UNDER-represent the true economic benefit, since licensee data data and sales from spin-out companies were unavailable.
A number of SBIR Success stories were also highlighted:
Dr. Ahmadreza Rofougaran used funding from a DARPA SBIR to develop a chip that integrated Wi-Fi, Bluetooth, and GPS connectivity, technology that is still used in every smart phone today
PowerFilm received DOD SBIR follow-on funding for an technology originally developed at DOE to create flexible, foldable solar panels.
Teledyne Marine developed the Slocum Glider, an autonomous underwater vehicle used to collect data from oceans, with the help of a Navy STTR

Researchers at Photobit used several DOD and NASA SBIRs to greatly improve the performance of the CMOS active pixel sensor, a technology they originally developed while at NASA JPL, for multiple new commercial and military applications of this "camera-on-a-chip."
In purely commercial, economic terms, the SBIR/STTR programs are an unqualified success.  Every dollar the US taxpayer invests in SBIR/STTR is multiplied back several times in taxes, sales, and total economic output.  This study, combined with studies at the Air Force, Navy, NASA, and National Cancer Institutes, demonstrates that there is no better program in the government for stimulating the economy and generating positive economic returns.
We encourage all of you to click the link below to read the DOD Economic Impact Study, and share its conclusions with any legislators or government officials you communicate with:
National Economic Impacts from the DOD SBIR/STTR Programs 1995-2018